Security Systems and Fire Alarm Systems in Central/Upstate New York
At Fire Detection Systems, Inc we work with you and your budget to find you the right security system for your business or facility. Utilizing the design-build method, we work with businesses and organizations to increase facility security and optimize functionality. With over 30 years of experience providing security system solutions to Syracuse, Upstate New York and surrounding areas, we've gained a reputation for being the most trustworthy security system provider in our community and communities close by.
Customized Security Systems
Since 1989 we've been the leading customized security system provider in our area. Our team of NICET certified technicians gets to know you and your needs personally to provide you and your institution with optimal security and safety.
For whatever your unique requirements our team of skilled technicians work with you to find the security system that fits your needs and your budget. We carry brands such as Honeywell, Ademco, Detection Systems, and Silent Knight to provide you with the best security system technology available. By combining multiple security solutions into one systemized scheme, it's our goal to keep your facility safe. Call us today to learn more!
315-668-0093
Our customized security system options may include:
Cameras/Surveillance
Hikvision, Honeywell, Digital Watchdog
Burglar/Intrusion
Access Control/Card Access
Keri Systems
CDVI
Honeywell
IEI
HID
Intercom/Door Entry
Aiphone
Pach and Company
Keri Systems
Alpha Communications
Protecting Your World
We provide the best in technology, engineering, & NICET Certified Technicians.
Request a Quote
CCTV Technology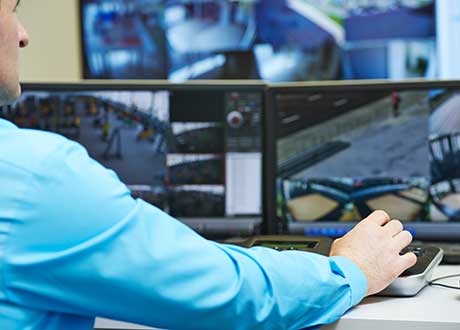 CCTV technology is a video surveillance technology that utilizes cameras that transmit signals to a monitoring system. CCTV technology is ideal for nearly all organizations and facilities that want to promote a safe and secure environment. At Fire Detection System, Inc. we offer a range of CCTV technologies from trusted brands such as Hikvision, Honeywell, and Digital Watchdog!
Not only do we help you find the right CCTV technology for your facility but we offer 24-hour emergency services that provide repairs and maintenance to your CCTV system to ensure that it's always up and running.
Door Entry Systems
Door entry systems are an important aspect of facility security. From security solutions such as doorbells and intercom systems to access control systems for your door, door entry systems provide limited access and give you control over who enters your facility's premises.
Not only do we offer a range of door entry system security options, we offer our expertise when it comes to selecting the right door entry system for your business or organization. We are proud carriers of reputable brands such as Aiphone, Pach and Company, Keri Systems, and Alpha Communications! Contact us today to get a quote and learn more about the door entry security systems that are right for your New York facility.