Nurse Call Systems in Central New York
Nurse Call systems promote communication between nurses and their patients with easy to use and efficient call system technology. Nurse call systems are required in nearly all medical and senior citizen care facilities to provide essential safety features for patients in the event of an emergency. Not only are nurse call systems a crucial part of any hospital or facility, nurse call systems can save lives!
Our certified technicians work with you and your hospital or facility to find the ideal nurse call system for your needs. With your budget in mind, we assist you in selecting the right nurse call system at the right price. With over 30 years of experience providing medical facilities with quality nurse call systems, it's our goal to keep you, your workers, and your patients safe 24/7.
315-668-0093
Types of Nurse Call Systems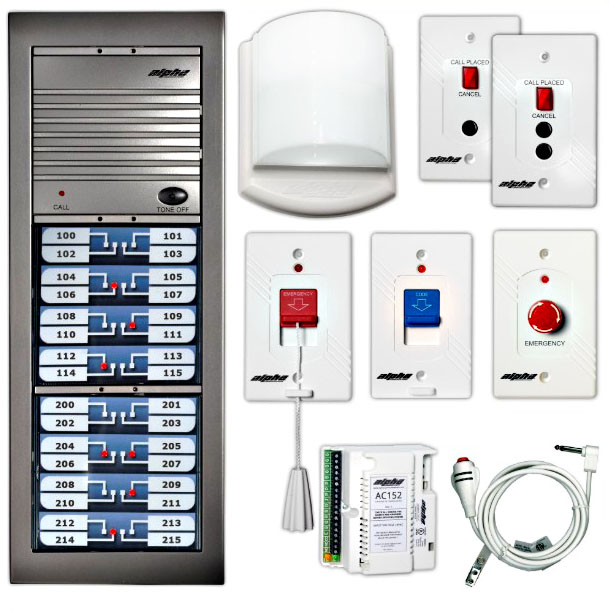 Nurse call system technology may seem straightforward, however, there are many different forms of nurse call systems that yield different benefits. Among the most common types of nurse call systems include:
Wall Stations – Wall stations are a microphone and speaker form of call system that can connect to code blue buttons and IV pumps and ventilators for optimal monitoring of patients. If systems experience any complications an immediate alarm goes off providing an extra level of safety.
Call Lights – Call light technology allows patients to contact nurses through the click of a button or simply inhaling or exhaling through a particular tube to notify nurses of inquiries or emergency situations.
Bed Cables – Bed cable call system technology is a wall station type call system that connects to patient's beds and notifies nurses that a patient has left their bed and may require assistance. This form of nurse call system is ideal for elderly nursing facilities.
Code Blue – Code blue call systems are a blue code that immediately alerts the nurse's station of a patient's immediate need for assistance.
Wireless Call Systems – Perfect for senior facilities, this offers all the features of a hard-wired system with the benefits of being wireless. Fully expandable to other buildings and up to 8000 devices.
Desktop Console – Desktop console call systems function as a phone and allow nurses or other caretakers to answer patient calls from rooms.
Upgrade Your Existing System
Don't get left behind. Give us a call or contact us for an estimate to update or expand your existing systems.
Request a Quote
Our Sound Equipment Solutions
Today's technology of wireless systems, built-in text messaging, visual nurse call, wireless pendants, and so much more is worth investing in for lifesaving communication.
We offer a broad range of technologies and solutions for hospitals, schools, and other facilities that require Public Address Systems with amplifiers, mixers, ceiling and wall speakers. Not only do we provide nurse call systems but we offer PA Systems that promote patient safety and effective communication. At Fire Detection Systems, Inc. we work with the top providers including brand such as:
Protecting Your World
We provide the best in technology, engineering, & NICET Certified Technicians.